ABC™ Coater
Benchmark Efficiency & Flexibility
ABC™ Pneumatic Profiling
The system is based on the principle of the backing roll providing the reference point for the ­profiling system. This means that interference from the blade holder position or ­movement is ­eliminated. The result of this principle is a self-positioning system that delivers uniform and ­excellent profiles right from the start of the coating process.
---
The ABC™ control mechanism is reliable and developed to ­withstand the harsh environment in the coating machine. The control actuators are made of acid-proof stainless steel. The first actuator of this type was installed in 1998 and they have proven to be maintenance-free.
Benefits of ABC™ Pneumatic Profiling
Features
Immediate flat cross-direction profiles
Repeatable and uniform quality
Allows for quick grade changes
Large coat weight range with uniform profiles also when ­applying high coat weights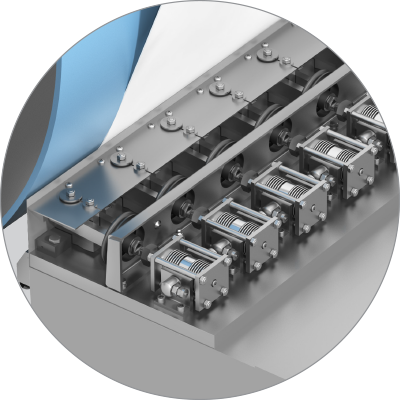 ---
ABC™ Coater with ­Excellent Runnability for High Product Quality
---
ABC™ Profiling in Manual Mode (without QCS link)
The ABC™ system delivers excellent profiles also in manual mode due to the self-positioning. This is shown by the ­initial 2-Sigma values that are achieved. The product is in quality already from the start.
ABC™ Profiling in Auto Mode (with QCS link)
The ABC™ profiling can be linked to the QCS system, the final result is based on the capability and quality level of the QCS system.
CD CW 2-Sigma (gsm)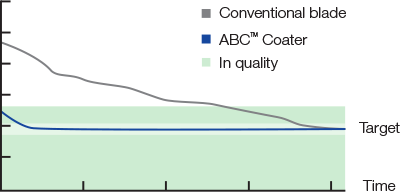 Chart showing the 2-Sigma value over time. The first 2-Sigma value from the scanner is normally twice as good compared to a ­conventional system.
ABC™ Coater with Excellent Runnability
Roll or Jet Application
Metering methods:

True stiff blade
Stiff blade
Bent blade
Rotating rod
INVO® Tip
ABC™ Coater Profiling Options
ABC™ Pneumatic System in Automatic or Manual mode
Conventional profiling mode, by means of electric step motors or manual set screws