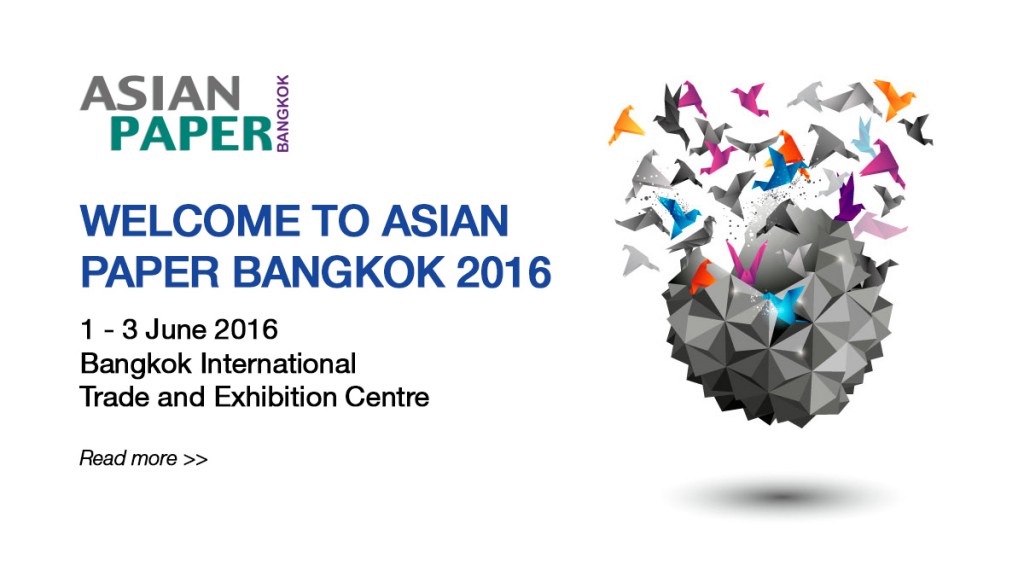 Welcome to Asian Paper Bangkok 2016
As the largest ASEAN Event for the global pulp, paper, packaging, corrugated and print industries, Asian Paper has proven to be the most trusted platform for industrial leaders and professionals to network, exchange ideas, and create business deals.
Event information
Date
1 – 3 June 2016, Wednesday to Friday
Event Opening Hours
1 – 2 June 2016, 10.00 – 18.00
3 June 2016, 10.00 – 17.00
Venue
Bangkok International Trade and Exhibition Centre (BITEC)
Hall 105
Slated for 1-3 June 2016 at BITEC, Bangkok, the 14th edition of Asian Paper will gather the key industry players to meet face to face and discuss the latest innovation, industrial trends and offerings of the latest cutting- edge products and services through the exhibition and conference. The Asian Paper exhibition focuses on the vertical segment of the Paper industry, covering the entire value chain, from pulp, chemical, adhesive, machineries, parts, converters to paper, print, packaging and corrugated products and services across the three-day event.