Customer article: LAS® in WestRock, Mahrt mill, US
The below article was published in the mill's internal news and UMV appreciates the permission to publish it here.
"After more than three years of designing, planning and waiting, the new Liquid Application System (LAS®) manufactured by UMV Coating Systems is up and running on the No. 2 paper machine at the Mahrt mill in Cottonton, Alabama.
The LAS® applies a controlled amount of water to the back of the sheet to help control curl. This ensures our sheet remains flat both before and after the printing process. The old LAS® was installed as part of the original machine in 1990, and it was time to replace it, so we could continue delivering high-quality board to our customers.
The new system arrived from Sweden in early February 2020, and our team originally planned the installation and start-up for the March 2020 shutdown. However, the COVID-19 pandemic put our project on hold because the commissioning and start-up engineers couldn't travel from Sweden during the European travel ban. Finally, in mid-February 2021, the Swedish and U.S. governments granted permission for the UMV team to travel to the Mahrt mill.
The new LAS® is built completely in stainless steel with a very sturdy frame and powerful rolls. The transfer roll has a new high performance cooling system that ensures dimensional stability. All controls are automated to better control how much water is transferred to the sheet. The new LAS® came online quickly and is providing high-quality board to our customers.
Thanks to project manager Joe Araujo, operations, maintenance, and contractor support for making this a safe and successful project."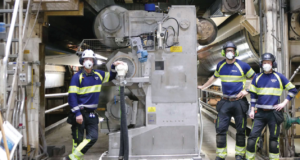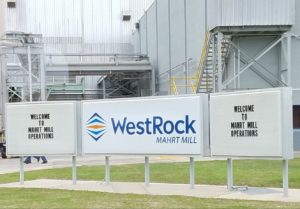 WestRock is one of the world's largest provider of paper and packaging solutions for retail and corrugated markets. The company with 42,000 employees operates in over 30 countries.
Mahrt Mill produces annually 950 000 Metric tons of high-quality carton board.
For more information please contact:
Tom Larsson, Executive VP Sales
tom.larsson@umv.com
+46 522 982 85
Or
Carl Karlsson, Sales North America
carl.karlsson@umv.com
+1 815 315 0409